October 14 was International E-Waste Day – a day meant to highlight the problems of electronic waste. This year, the day was focused on "invisible" e-waste – things most people don't think of as electronics. The surprising category at the top of this group was toys.
Electronic waste, or e-waste, is the name given to old electronic devices that get thrown away. These can include old computers, phones, TVs, as well as all kinds of other electronic devices.
E-waste is a big problem. While electronics can make life easier and more entertaining, the devices aren't easy on the environment.
As newer, more advanced devices come out, huge amounts of electronics are thrown away, instead of being recycled. These items often end up in landfills, where the chemicals inside them may be a danger to the environment. Electronics can contain hazardous materials like lead or mercury. If these materials get into the ground or water, the pollution can cause serious problems.
Most electronics require rare metals. These metals, like gold, copper, lithium, and cobalt, must be mined from the earth. Often the mining process creates serious pollution. In many cases, these materials are getting harder and harder to find. If more e-waste was recycled, many of those rare metals could be taken from old electronic devices instead of being mined.
A group known as WEEE (Waste Electrical and Electronic Equipment Forum) is trying to make people more aware of the problems of e-waste. WEEE says that the rare metals and other materials that get thrown out as e-waste every year are worth about $57 billion.
Recently, WEEE asked researchers from the United Nations (UN) to study a kind of e-waste that's often not noticed because people don't consider the items to be electronics. The WEEE calls this category "invisible" e-waste.
The UN study revealed that about 1/6 of all e-waste is "invisible", and that the value of this unseen waste is actually about $9.5 billion a year.
Though it's "invisible", it's certainly not a small amount. The invisible e-waste weighs about 19.8 billion pounds (9 billion kilograms). WEEE says that if this e-waste were piled into 40-ton trucks and the trucks were then lined up, the line of trucks would stretch for about 3,500 miles (5,630 kilometers).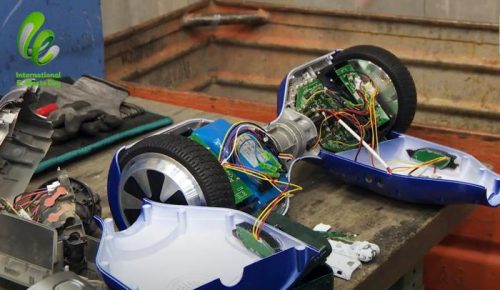 The surprising category leading the invisible e-waste group was toys. Worldwide, roughly 7.3 billion electronic toys are thrown away each year. These include items like car racing sets, electric trains, musical toys, and drones. They also include toys with electronic parts, like dolls that speak or games with electronic timers. In all, toys make up about 35% of invisible e-waste.
But the problem is far larger than just toys. The report also shows that other everyday items like home alarms, smoke alarms, power tools, and computer cables are also big sources of invisible e-waste. The UN report says that 36% of the world's invisible e-waste comes from these three categories.
WEEE is hoping that as more people – and governments – become aware of e-waste, they will make a much greater effort to make sure electronics get re-used or recycled.
---
Did You Know…?
WEEE says that about 844 million electronic vaping devices are thrown away each year. The weight of these devices alone is equal to the weight of about six Eiffel Towers.