On Monday, the Nobel Prize in medicine was given to Katalin Karikó and Drew Weissman – two scientists whose work led to the development of mRNA vaccines. Their ideas about mRNA were a huge scientific breakthrough, and saved millions of lives during the coronavirus pandemic.
Nobel Prizes
     The prize was created by Alfred Nobel, the inventor of dynamite. He didn't want to be remembered for making things blow up, so he used his money to give prizes to people who had done important work. The first prize was given in 1901. There are four Nobel prizes in different areas of science, one for literature (writing), and one for working toward peace.
The Nobel Prize in medicine is one of the most important awards in science. This year's Prize is worth roughly $1 million.
😕
This image has not been loaded because of your cookie choices. To view the content, you can accept 'Non-necessary' cookies.
Dr. Karikó, who is 68, is from Hungary. In the 1970s, she began studying a new area of research: messenger RNA (mRNA).
mRNA is a special molecule which carries instructions that tell cells what proteins to make. Proteins are one of the building blocks of life. They're involved in almost every process in living things, from fighting diseases to building muscles to helping our bodies work.
Dr. Karikó was excited about the idea that mRNA could be used to help the body fight many different diseases. In 1985, she moved to the United States to continue her research at Temple University in Philadelphia. In 1989, she joined the University of Pennsylvania (UPenn) in Philadelphia as a scientist.
But even though Dr. Karikó was sure mRNA could be useful as a medicine, as time went on, other scientists began to lose interest in mRNA. Dr. Karikó had trouble getting money for her research.
One day, Dr. Karikó met another UPenn scientist, Dr. Drew Weissman at the photocopy machine. He was hoping to find a way to create a vaccine for a disease known as HIV. The two began talking and soon decided to work together.
One of the biggest problems with using mRNA as a medicine was that the human body saw the mRNA as an enemy and fought it off.
Together, Dr. Karikó and Dr. Weissman came up with a way to treat mRNA so that the body accepted it. In 2005, they published a paper describing their new discovery.
At the time, few people took much notice of the pair's work. The scientists had a very hard time getting money to continue their research. Dr. Karikó even lost her job at UPenn.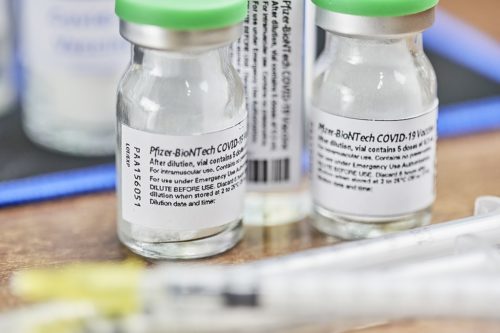 But the ideas in their paper laid the groundwork for the Covid-19 vaccines that have saved millions of lives around the world. The mRNA in the vaccines helps teach the human body how to fight the virus, without ever using any of the actual virus.
Thanks to the work of the scientists, when the coronavirus pandemic swept the world in 2020, companies were able to develop mRNA vaccines far more quickly than vaccines had ever been developed before. The mRNA vaccines made by Pfizer-BioNTech and Moderna have now been given billions of times.
Importantly, scientists around the world are now looking into using mRNA methods to treat many different diseases, including flu, malaria, and even some cancers.
Dr. Weissman described winning the Nobel Prize as "an incredible honor". He said, "I think the important thing is that we couldn't have come to the result without both of us being involved."
---
Did You Know…?
The Nobel Prize has been going since 1901, but Dr. Karikó is still only the 13th woman to win the Prize.