A team of students in the Netherlands has designed and built a tough car that's completely powered by the sun. The car, called Stella Terra, is the first solar-powered car that can travel off-road for long distances without needing a recharging station.
Students at Eindhoven University of Technology in the Netherlands have been working on solar-powered cars for years. But over the last year, 30 students between the ages of 21 and 25 took a year off from the university to work on developing a tough, off-road solar-powered car.
The students are known as Solar Team Eindhoven, and the car they came up with is called Stella Terra. In order to create a car that could handle the kind of tough driving the team was planning for, the students had to design the entire car, from top to bottom.
On top, of course, were the solar panels. Most solar panels are only about 20% efficient. That means they waste about 80% of the sunlight they get. But the Stella Terra's solar panels are 97% efficient. They waste far less sunlight than even the best solar panels you can buy.
Like most electric cars, the Stella Terra stores energy in a battery. Thanks to its powerful solar panels and its battery, when it's sunny, the car can run for 440 miles (710 kilometers) a day.
Stella Terra can carry two people, and has a top speed of 90 mph (145 kph). The car weighs just 2,600 pounds (1,200 kilograms). That's about two-thirds the weight of a typical car.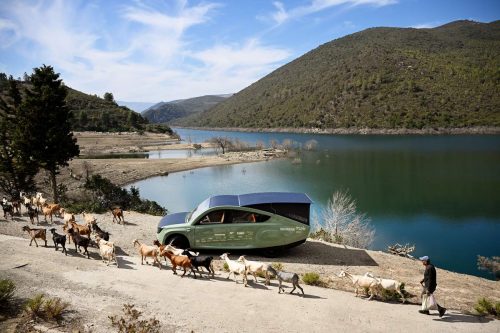 On the bottom, the team designed a suspension system to help the car handle the bumps and heavy shaking that come when driving over rough, uneven surfaces.
The team recently took the car on its biggest test – a challenging 620-mile (1,000-kilometer) test drive across Morocco. The car had to travel through forests as well as dry riverbeds. It had to drive across loose desert sand and up steep mountain trails. The car succeeded in doing all of this – and all without ever stopping at a charging station.
Bob van Ginkel, one of the students leading the project says, "The car was actually very comfortable in the off-road conditions as it is very light and does not get stuck."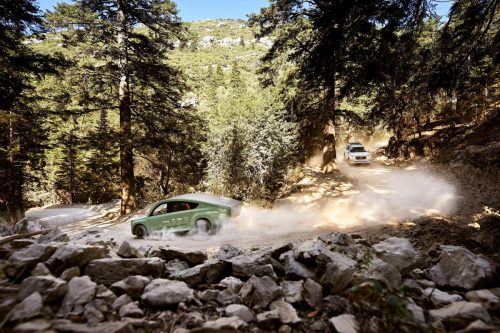 The car's steering system developed a problem at one point. But since the students had designed the entire car, it didn't take them long to repair the steering.
The team is very proud of their car, but they won't be upset if car companies start to copy their ideas. In fact, they hope that the Stella Terra will help inspire car companies to work on similar projects.
But despite their success, the students think it will take five to 10 years before car companies are able to build a similar car. "We are pushing the boundaries [limits] of technology," said Wisse Bos, the team's manager.